Current Watches, Warnings and Advisories for Lucas (OHC095) Ohio Issued by the National Weather Service - 2016-07-23T22:46:00-04:00
Heat Advisory issued July 23 at 10:46PM EDT until July 24 at 8:00PM EDT by NWS - 2016-07-23T22:46:00-04:00
...HEAT ADVISORY REMAINS IN EFFECT UNTIL 8 PM EDT SUNDAY... * TEMPERATURE...AFTERNOON HIGHS IN THE LOWER 90S. * MAXIMUM HEAT INDEX VALUES...NEAR 100 DEGREES. * IMPACTS...THERE IS A RISK OF HEAT RELATED ILLNESSES FOR PEOPLE WITH PROLONGED OUTDOOR EXPOSURE...ESPECIALLY THOSE WORKING IN THE DIRECT SUNSHINE. THOSE WITHOUT AIR CONDITIONING ARE AT



Current Watches, Warnings and Advisories for Fulton (OHC051) Ohio Issued by the National Weather Service - 2016-07-24T02:52:19+00:00
There are no active watches, warnings or advisories - 2016-07-24T02:52:19+00:00




Current Watches, Warnings and Advisories for Monroe (MIC115) Michigan Issued by the National Weather Service - 2016-07-22T13:41:00-04:00
Air Quality Alert issued July 22 at 1:41PM EDT by NWS - 2016-07-22T13:41:00-04:00
...AIR QUALITY ALERT IN EFFECT FOR SATURDAY JULY 23TH... THE MICHIGAN DEPARTMENT OF ENVIRONMENTAL QUALITY HAS DECLARED SATURDAY JULY 23TH TO BE AN ACTION DAY FOR ELEVATED LEVELS OF OZONE. POLLUTANTS ARE EXPECTED TO BE IN THE UNHEALTHY FOR SENSITIVE GROUPS RANGE. THE ACTION DAY IS IN EFFECT FOR THE FOLLOWING MICHIGAN COUNTIES...


Ohio Counties

enlarge
SPC Convection (Severe Weather) Outlooks
________ Day 1 ________________ Day 2 _______________ Day 3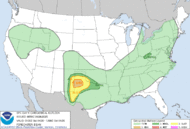 SPC Current Mesoscale Discussions - Detailed analysis on areas that could receive severe weather.
Click for county details