Current Watches, Warnings and Advisories for Lucas (OHC095) Ohio Issued by the National Weather Service - 2014-07-23T01:13:31+00:00
There are no active watches, warnings or advisories - 2014-07-23T01:13:31+00:00




Current Watches, Warnings and Advisories for Fulton (OHC051) Ohio Issued by the National Weather Service - 2014-07-23T01:13:31+00:00
There are no active watches, warnings or advisories - 2014-07-23T01:13:31+00:00




Current Watches, Warnings and Advisories for Monroe (MIC115) Michigan Issued by the National Weather Service - 2014-07-22T06:40:00-04:00
Air Quality Alert issued July 22 at 6:40AM EDT by NWS - 2014-07-22T06:40:00-04:00
...AIR QUALITY ALERT FOR TUESDAY JULY 22ND... THE MICHIGAN DEPARTMENT OF ENVIRONMENTAL QUALITY HAS DECLARED TODAY...JULY 22ND...TO BE AN ACTION DAY FOR ELEVATED LEVELS OF OZONE. POLLUTANTS ARE EXPECTED TO BE IN THE UNHEALTHY FOR SENSITIVE GROUPS RANGE. THE ACTION DAY IS IN EFFECT FOR THE FOLLOWING MICHIGAN COUNTIES...


Ohio Counties

enlarge
SPC Convection (Severe Weather) Outlooks
________ Day 1 ________________ Day 2 _______________ Day 3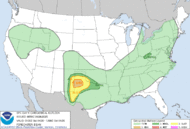 SPC Current Mesoscale Discussions - Detailed analysis on areas that could receive severe weather.
Click for county details