Huge amount of smoke just west of downtown.
created by JohnnyMac on Mar 02, 2017 at 04:57:09 pm
Comments: 6
Comments ... #
Yeah, I was trying to pinpoint it. Looks like something just west of downtown, over I-75. Nebraska, Hawley, Dorr. Something in that vicinity.
Lithium Innovations....Campbell street homes being evacutated from Junction to Hawley. Per WTVG
(A friend sent me a picture of it, so I've been trying to use that to figure out where. So take that info with a huge grain of salt.)
wow.... saw it from talmadge/central
posted by enjoyeverysandwich on Mar 02, 2017 at 05:12:39 pm #
Must be the new Samsung batteries. /s
posted by jbtaurus98 on Mar 02, 2017 at 05:25:01 pm # 2 people liked this
Blade story
A fire was reported about 2:45 p.m. at Lithium Innovations in the 1300 block of Campbell Street.

This WTOL story contains live video from a distance.
These are photos included in the WTOL story that were sourced from Facebook users.
Toledo Fire and Rescue are evacuated a six-block area in central Toledo due to a chemical fire
Map of the area being evacuated in Toledo due to potentially toxic smoke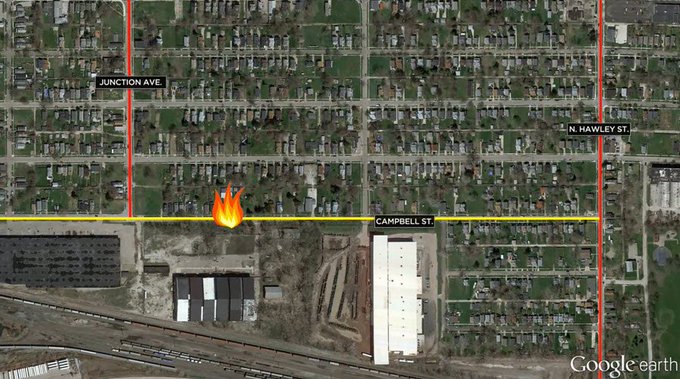 Evacuation area now includes Nebraska Ave. and Campbell St. north to south and Pulaski Ave. and N. Hawley St