There are many interesting, but overlooked locations to visit in the Toledo area. With spring (hopefully) upon us soon, I'd love make a day trip or two to visit some unappreciated, but fascinating sites in Northwest Ohio. Nothing is too little to be worth mentioning. Here are my offerings.
Dynamite Dock - Point Place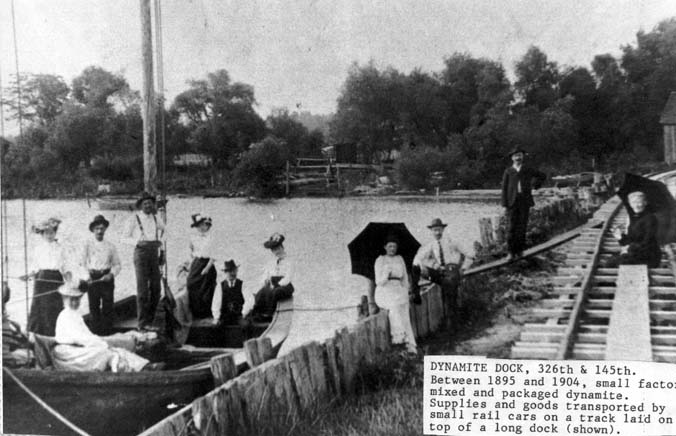 A social group known as the "Dynamiters" are shown at what remains of the dock at Carland Beach. About 1905.

I don't have any modern-day pictures of this, unfortunately. But I've been told that when the water is low at 346th and 145th street in Point Place, the decaying poles of what was known as Dynamite Dock can be seen. Below is a description found from a Geocities page about the location (author unknown):

Dynamite Dock was located in back of Johnson's on Edgewater (land east of 326th near 145th).and owned by A. J. Rummel Company, a gunpowder and sporting goods store. The dock was used to load rowboats with nitro which was then rowed across the Ottawa River for shooting oil wells for 50 cents a trip. A city of Toledo Ordinance prohibited hauling the explosives through city streets.
Part of the story was that on November 13, 1884 a hunter aimed wrong and hit a box of nitro and blew up the dock and storehouse. Yet nothing in the Toledo Blade account mentions a hunter. The Blade account reads in part "At a few minutes past 10 o'clock this morning a terrific explosion startled everyone in Toledo. In the business section, windows rattled--everyone thought it was an earthquake....Rummel's powder workers on Delaware Creek had blown up...On the south side of Delaware Creek, situated on the side hill, was Rummel's Powder Mills, consisting of a packing house, drying house and storage rooms. These were located about 200 feet apart.
This morning a tub of nitroglycerine which had been out of doors had frozen and it was necessary to thaw it out. N.C.Clark, the foremand, had rolled the keg to within five or six feet of the coal stove--but R. Gaul moved it closer. Since nitroglycerine will not explode except at a temperature of 360 degrees or more, it is thought that the tub caught fire. When it was discovered that it was on fire, one of the men threw it outside...South Toledo, Maumee and Perrysburg saw an immense cloud of smoke. Shock was felt in a radius of at least 40 miles. Fremont, Ann Arbor, and a dozen towns reported by telephone that they had heard the crash. The glass in a Monroe Street saloon shattered. One side of Grasser & Brand's ice house, west of the scene of the accident, was completely blown out.
The report of the explosion was plainly felt at the Court House. Officers and clerks rushed franticallhy out into the park,...Total loss was estimated by Mr Rummel to be about $10,000."
Silo Tree - North Toledo

Found at the intersection of Matzinger and Benore, this silo tree now stands alone ó no longer adjacent to a deteriorated ivy-covered barn, as shown in the Google Street View image above. This is an example of a Midwest phenomenon that has even been sought after by some photographers. When silos are abandoned, seeds within them take root and are able to obtain enough sunlight to grow. The walls of the silos protect saplings from harsh winds and serve as a sort of nursery.

Demonic Metal Sculptures - Holland


At 8246 Angola Road in Holland, one can stumble upon what appears to be a demented fairground (once referred to in a Toledo Talk post as "The Evil Disneyland on Angola Road"). Owned by Thomas J. Anderson, this property has been the subject of legal debate over whether the metal sculptures were allowable on what was zoned as agricultural property. (See this WTOL article.) Anderson won the right to keep them on display, and has since erected signs that criticize local politicians and allude to a custody battle over his grandchildren. Despite their demented appearance, the sculptures are worth admiring.

What unique, obscure locations do you know about?