Streaming Radar - http://www.ustream.tv/channel/live-oklahoma-weather
Outlook images below are archived from the event itself.
SPC Storm Reports for 6/5/10
http://www.spc.noaa.gov/climo/reports/100605_rpts.html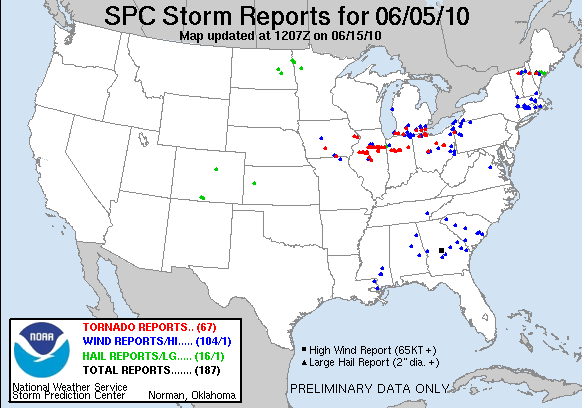 DAY 1 CONVECTIVE OUTLOOK
NWS STORM PREDICTION CENTER NORMAN OK
0754 AM CDT SAT JUN 05 2010

VALID 051300Z - 061200Z

*...THERE IS A MDT RISK OF SVR TSTMS OVER PARTS OF THE MID MS AND OH
VLYS...*

...THERE IS A SLGT RISK OF SVR TSTMS SURROUNDING THE MDT RISK
AREA...FROM THE LWR MO VLY TO THE NEW ENGLAND AND MID ATLANTIC
CST...

...SYNOPSIS...
IN BELT OF STRONG ZONAL FLOW OVER THE NRN TIER...SHORTWAVE TROUGH
NOW OVER MT WILL AMPLIFY ESE ACROSS THE DAKOTAS/MN/IA BY THIS
EVE...BEFORE FURTHER AMPLIFYING AS IT CONTINUES ESE INTO MI/IND
EARLY SUN. IN THE WAKE OF THE TROUGH...RIDGE WILL BUILD N ACROSS
THE GRT BASIN/RCKYS AS UPR LOW CONTINUES TO ELONGATE OVER THE
CNTRL/WRN GULF CST.

...MID MS VLY INTO THE OH VLY TODAY/TONIGHT...
WEAK MCSS NOW OVER IA/NRN MO/IL SHOULD CONTINUE ESE THROUGH LATER
THIS MORNING AND FURTHER WEAKEN. ADDITIONAL STORMS SHOULD FORM ON
ERN EDGE OF THESE CLUSTERS OVER PARTS OF IL/IND AND OH...WHERE MORE
SUBSTANTIAL HEATING WILL OCCUR BENEATH MODERATE...DEEP
UNIDIRECTIONAL WLY MID-LVL FLOW /REF MCD 812/. THE STORMS COULD
ORGANIZE INTO ONE OR TWO CLUSTERS/BANDS. THERE WILL BE A RISK FOR
SVR WIND/HAIL...ESPECIALLY FROM CNTRL/NRN IND INTO CNTRL/NRN OH AND
WRN PA...GIVEN 40+ KT 700 MB FLOW AND SBCAPE TO 2000 J/KG.

BACK WEST...SFC HEATING IN WAKE OF MORNING ACTIVITY AND APPROACH OF
AMPLIFYING UPR IMPULSE SHOULD SUPPORT A NEW AREA OF STORM
DEVELOPMENT OVER CNTRL/NRN IA BY MID AFTN. PW AOA 1.75 INCHES...SFC
DEW POINTS AROUND 70 F...55-60 KT DEEP WNWLY SHEAR...INCREASING
UVV...AND STEEP MID-LVL LAPSE RATES SHOULD FOSTER SUPERCELLS WITH
LARGE HAIL AND A FEW TORNADOES. THESE STORMS SHOULD MERGE INTO A
FORWARD-PROPAGATING/BOW MCS BY EVE AS UPR SYSTEM CONTINUES TO
AMPLIFY AND A SFC LOW DEVELOPS OVER NRN IL/SRN MI. EMBEDDED
SUPERCELLS/BOWS SHOULD ACCELERATE DOWNSTREAM INTO CNTRL/NRN
IL...CNTRL/NRN IND AND POSSIBLY PARTS OF OH BY MID/LATE EVE.
STRONG...DMGG WIND GUSTS...LARGE HAIL AND A FEW TORNADOES MAY OCCUR.
THE THREAT WILL CONTINUE INTO PARTS OF UPSTATE NY AND WRN/NRN PA
EARLY SUN.
WHILE THE MCS FORWARD-PROPAGATES INTO THE UPR OH VLY...
UNIDIRECTIONAL WIND PROFILE AND THERMODYNAMIC SETUP ALSO WILL
SUPPORT BACKBUILDING/REGENERATIVE STORMS ALONG COLD FRONT/ OUTFLOW
INTO NE MO AND CNTRL IL...WITH AT LEAST AN LIMITED THREAT FOR
OVERNIGHT SVR WIND/HAIL.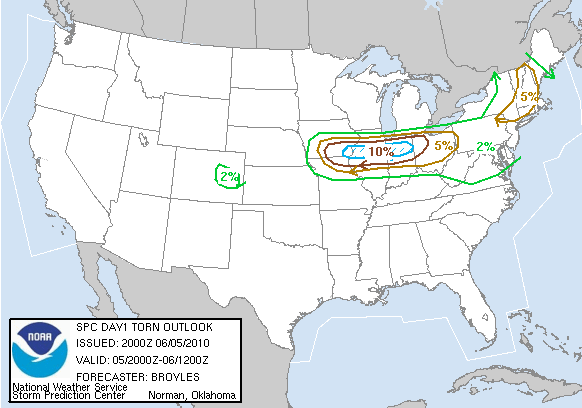 Live Video Feed from: ChaserTV.com and SevereStudios.com
NWS North Webster, IN (N Indiana/NW Ohio/S Michigan): http://www.crh.noaa.gov/iwx/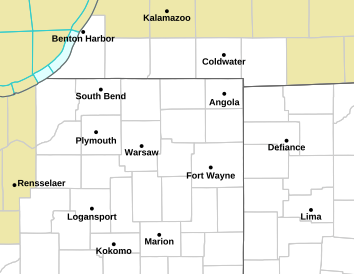 NWS Cleveland (NC/NE Ohio) : http://www.erh.noaa.gov/cle/

NWS Detroit/Pontiac (SE Mich): http://www.crh.noaa.gov/dtx/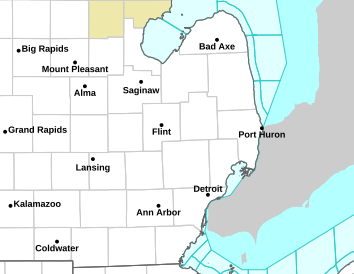 Current Satellite:

Current Radar: