3 year anniversary Fest
OCTOBER 16,19 & 22
^^^^^^^^^^^^^^^^^^^^^^^^^^^^^^^^^^^^^^^^^^^^^^^^^^^^^^^^^^^^
16th
Dino Felipe
Dino Felipe is a Miami-based recording artist of Cuban descent. He has released and made appearances on over 50 albums. Since 1999, he has collaborated and released with a number of musicians including Otto Von Schirach, Nick Forté (as Felipe and Forté), Carlos Giffoni (as Old Bombs), and Wolf Eyes. R. Stevie Moore recorded a cover of Dino Felipe's "Been Waiting" on his 2010 album, Space Bar. He has also recorded with FKTRN, Finesse & Runway, Hair & Nails, Old Bombs, and several other collaborative projects.
Public Eyesore has released albums by Dino's collaborative projects FKTRN, Hair and Nails, Old Bombs, Onid & Isil, Dino Felipe + Dereck Higgins, and Dino Felipe's album of songs Sorta' Bleu will be released on Public Eyesore in August 2011. Dino also has several releases on Schematic and many other labels including: Spite, White Tapes, Freedom From, Rolax, No Fun Productions, Soft Abuse, Recession Recordings and Bananas Eat Girl.
Ricardo Guerrero (This Heart Electric) will be backing Dino up on drums.
"One of the 'no generation's' most prolific voices in experimentalism." - Ear/Rational Music
"He has gained a cult national reputation on the strength of his music alone, which can veer from experimental noise to post-punky cold wave, from ambient textures to strangely danceable rhythms." - Miami New Times
"Felipe can turn a gluttonous mess of industrial samples, Moog-noises, disco breaks, and satanic-style backmasking into a heroic tribute to modern life: our freeways, vacant lots, disposal bins full with discarded PC towers, stretch limos with teenagers inside, and lots of commercials-it's all there in Felipe's sound. I'm You is the honest truth. He turns our thoughts into sound."-Asphodel - Dino Felipe - I'm You (Schematic)
"Live, Felipe is Miami's G.G. Allin. There's a sense he could injure a member of the crowd or himself at any moment. This record is far removed from that onstage persona. Here we find a sincere man and a collection of bittersweet songs overflowing with emotion. " - Jose Flores
"These are the sounds of a sonic prodigy. The original unrestrained songs of a fierce intellect that keeps on giving." - R.R.
This Heart Electric is Miami artist Ricardo Guerrero. Dino Felipe will be backing him up on drums for this tour's acoustic set.
"Once a one-man cold-wave project, the live show has softened (not as far as Guerrero's spastic, Freddie Mercury movements, which not only refuse to disappear but have molded themselves to the newer work). There's still an undercurrent of the beautifully hollow/beautifully rich sound that recalled Ian Curtis and defined his released single, but it has transformed into something resembling sweet-ish, 1950s-inspired pop, albeit fuzzy and dark, with distant, surfy guitars layered on top of heartbroken - and heartbreaking - melodies." -Monica Uszerowicz of Broward New Times
Aaron Dilloway
Aaron Dilloway is an experimental musician. He has been releasing and recording music since the age of 16. He is a former guitarist and tape manipulator for the noise rock band Wolf Eyes, which he left in 2005 to live most of that year in Kathmandu, Nepal. While his wife did her graduate work there, he roamed the streets recording every sound he could, many of which are used in his recent recordings and performances. Currently he runs the noise record label, record store and mailorder Hanson Records, which he began in Ann Arbor, Michigan in 1994, but has been based in Oberlin, Ohio since February 2008. He performs solo using eight track tapes and vocal sounds, and records modular synthesizer music as Spine Scavenger. Recently, he has played with an ever-changing cast of sound artists under the name The Nevari Butchers.
http://www.discogs.com/artist/Aaron+Dilloway
_____________________________________
19th
Jaap Pieters & Travis Bird
Dutch artist Jaap Pieters has been taking photographs and making Super 8mm films for three decades. He's created dozens of films on this small-gauge "amateur" medium, confining himself to the duration of a Super 8 reel (3 minutes). Working with minimal equipment and manipulation, most of Pieters' films are shot from the window of his Amsterdam apartment. Well-known in Europe where his work is seen regularly at micro-cinemas, alternative venues and festivals, these ephemeral creations are rarely screened in North America. In collaboration with Anthology Film Archives, and as part of his inaugural U.S. tour, Pieters will present his films in person and give commentary, while Chicago musician Travis Bird will improvise sounds to interact with the visual environments.
Travis Bird
Travis Bird is a Chicago-based musician and songwriter. He has explored a wide variety of musical territory on guitar, drums, and an array of other devices, including punk and classic rock as well as experimental and sound art veins. Current projects and collaborations include the psychedelic rockrnof the Leavitt Ours, a guitar duo with Dan Burke (Illusion of Safety) and Dense Reduction with Evan Lindorff-Ellery, with whom he runs a boutique cassette label called Notice Recordings.rn
Matthew De Gennaro
Chances are you have never heard of Matthew De Gennaro's music, although he has been making music for decades and performing with many better known artists than himself. De Gennaro's music is about as honest and as warm as the man himself. Living in a 150 year old school house in rural Michigan and embracing nature in his remote location, and recording his music himself might offer a better understanding of old world tone and natural sounds De Gennaro is conveying. This performance will be purely acoustic along side with his 8mm films.
____________________________________
22nd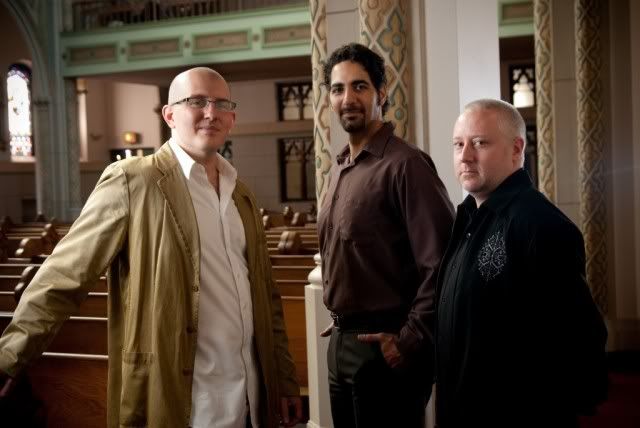 http://www.youtube.com/watch?v=tVqqr0L84B8
Allos Musica Trio
James Falzone, clarinet
Ronnie Malley, oud and voice
Tim Mulvenna, hand drums and percussion
Formed in 2007 as an outgrowth of James Falzones' fascination with and study of Arabic music, The Allos Musica Trio plays Falzone's original compositions in addition to traditioanal and contemporary Arabic music. The trio has performed residencies and concerts throughout Chicago and the midwest
Multi-faceted clarinetist/composer James Falzone is an acclaimed member of Chicago's jazz and creative improvised music scene, a veteran contemporary music lecturer and clinician, the longtime Director of Music for Grace Chicago Church and an award-winning composer who has been commissioned by chamber groups and symphony orchestras among other institutions. His incredibly diverse career also includes sideman work in Tim Daisy's chamber-jazz trio Vox Arcana, the French music ensemble Le Bon Vent and Dutch saxophonist Jorrit Dijkstra's The Flatlands Collective.
"With the possible exception of John Carter," writes AllAboutJazz.com's Jerry D'Souza, "no precedents for his work spring readily to mind." Critics have called him "an inveterate genre-crosser" (Matthew Lurie, Time Out Chicago), "the finest improvising clarinetist in Chicago" (Neil Tesser, Examiner.com), and "witty, piquant and eminently listenable" (Michael G. Nastos, AllMusic.com). Cadence's Troy Collins adds, "Falzone blends an impressive array of influences into a singular style all his own."
Ronnie Malley : Oud Guitar & Voice
A Chicago native, Ronnie Malley is a multi-instrumentalist that has been performing for audiences since the age of thirteen. Ronnie began guitar lessons at an early age later moving on to piano, and Middle Eastern percussion. He is also self-taught on the Oud (Mid- Eastern lute). As a member of the family band with his father and brother, both percussionists, Ronnie's stage experience began by performing at weddings, concerts, festivals and local Middle Eastern clubs with renowned artists such as Kazem Elsaher, Majdi Husseini, and Tony Hanna. Eventually touring throughout the US, the Middle East, and Europe, Ronnie expanded his ethno-musical palette to study, perform and record with Sufi and folk musicians from Senegal, Sudan, North Africa, India, Turkey as well as with Afro-Peruvian folk artists, Rodolfo Munoz and Miguel Ballermos. His more recent credits include principal musician and actor in the Lookingglass Theatre production of "Arabian Nights", assistant music arranger and performer in the Goodman Theatre production of "Mirror of the Invisible World" and French FTS Production documentary,"Modou The Hang Player - One World Music". Ronnie expresses a message of cultural awareness that "although we have many differences, music and art remain universal elements that help illuminate our commonalities." Aside from teaching at the Old Town School of Folk Music, he conducts Arabic music workshops for Chicago Public Schools and the University of Chicago's Startalk camp, composes and records for various film projects, as well as performing and touring with music groups Lamajamal, Mucca Pazza, Duzan Ensemble and the U of C Middle Eastern Music Ensemble.
TIM MULVENNA : Hand percussion
TIM MULVENNA has been performing and teaching for the last two decades in Chicago , as well as playing festivals and touring in the USA , Canada , Japan , Europe , Thailand , and Brazil. He has worked with many international artists including the Eternals , Robbie Fulks , Ken Vandermark , Smog , Fareed Haque , Fred Anderson , Lin Halliday , Jarek Smietana , Jeb Bishop , Ritchie Cole , the Smothers Brothers , Roscoe Mitchell , Rob Mazurek , Ella Leya , Jeff Parker , Ken McIntire , Liquid Soul , Michael Urbaniak , Peter Brotzmann , Larry Novak , John Abercrombie , Mike Frost Project , Tommy Dorsey Orch. , Ryan Cohan , Brahm's 3rd Racket , James Falzone's Allos Consort , Bob Newhart , Grazyna Auguscik , Portastatic , the Metropolis Orchestra , Issa Boulos , Pete Cosey , Joan Rivers , Frank Quinn & the Holy Hour House Band and the Gypsy Rhythm Project. His playing is represented on over 100 recordings on labels as diverse as Blue Note , Drag City , Delmark , Atavistic , Okka Disc , Submarine , Blujazz , and Aesthetics. Tim plays drum set , ethnic hand drums , hammered dulcimer , malletkat(synthesizer)and vibes.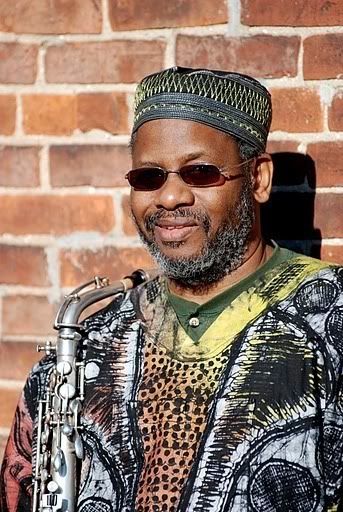 Hasan Abdur-Razzaq
Hasan Abdur-Razzaq (Montgomery, AL) is a descendant of the Cleveland free jazz scene that brought in the Ayler Bros. and Abdul Wadud, but who also has a keen interest in world music traditions, futurism a la Sun Ra, and the cathartic drive and textural playing of Jimi Hendrix. The sound of spirituals and the cadence/intonation of his church pastors made a lasting impression on Hasan, as did a pilgrimage to Mecca in which he became fully aware of both spiritual and musical aspects of the Middle East. As a saxophonist, Hasan has been influenced by Ayler, Trane, and Pharaoh (the trifecta).
Robinwood Concert House
2564 Robinwood
9pm - donations suggested
http://toledobellows.wordpress.com/